Grilled Berkshire Pork Chops with Portuguese Spices and a Vegetable Terrine
Created by Chef Agostino von Hassell
This simple preparation combines thenatural flavor of all-organic Berkshire Pork sold by the legendary meat purveyor Strassburger Meats with a modestly spicy mix of peppers and salts based on Portuguese traditions. Portuguese cuisine has long been a global leader in introducing innovative pork dishes. This recipe builds on rich traditions that incorporate spices and flavors from around the globe – a result of the voyages of discovery. Using the spicy Compass Box Asyla Blended Scotch in the marinade and in the vegetables further increases the flavors.
Ingredients (For four people)
4 Berkshire French-cut bone-in pork chops, ideally 2-inches thick
A bottle of spicy red wine, I suggest a young red from Portugal's Dão Region
Portuguese spice blend: 1 teaspoon paprika, 1/2 teaspoon ground cumin; a pinch of ground cloves; a pinch of fresh ground nutmeg, 1/4 teaspoon ground red piri-piri pepper corns; 1/2 teaspoon finely ground white and black pepper corns; one small pinch each of allspice and cinnamon; 2 teaspoons course Portuguese sea salt.
4 ounces of Compass Box Asyla Blended Scotch
4 medium-sized zucchini sliced into thin long ribbons (Separate the zucchini pieces from the outside showing the green skin.)
2 medium-sized yellow squash sliced into thin long ribbons Separate the squash pieces from the outside showing the yellow skin.
1 medium eggplant, sliced into thin sheets about 1/8 inch thick
1 cup garlic cloves, peeled and minced
1 large tomato, cored and seeded and finely diced
4 red peppers, cored and finely diced
2 ounces of pine nuts
Sea salt
Pepper to taste
Olive Oil
One or two bricks. If no bricks are available, take some tiles or stones and cover them in aluminum foil.
Pork Chops
24 hours before cooking: rub each pork chop with about 2/3 of the Portuguese spice blend and lightly pound the spices into the meat.
Marinate the pork in a bottle of red wine for 24 hours.
Two hours before the end of the marinating period add 2 ounces of Asyla Scotch to the marinade. Reserve the rest of the Asyla.
Preheat oven to 375°F.
Remove the pork chops from the marinade and discard the marinade.
Sear the pork chops on all sides either on a grill or in a very hot pan.
Place the pork chops inside an ovenproof dish and roast in the oven for about 70 minutes.
Remove chops and allow them to rest for about 10 minutes.
Serve with the terrine.
The Terrine
Cut up all the vegetables.
Lightly sprinkle the eggplant slices with salt to drain the
bitterness. Let them sit on a plate for about 30 minutes and then pat them dry.
Roast the pine nuts in a plain pan until they turn lightly brown and set aside.
Mix all the reserved spices with some olive oil, the reserved 2 ounces of Asyla and minced garlic.
Lightly coat a terrine mold or a rectangular bread pan with olive oil.
Place the zucchini and yellow squash slices with the skin down on the bottom of the mold or pan, alternating between yellow and green.
Place some zucchini and yellow squash slices with the skin out along the sides of the mold or pan, alternating between yellow and green.
In the cavity created by the zucchini and squash slices alternate the rest of the zucchini and squash slices, some tomatoes, some diced red papers, some pine nuts, and the eggplant slices. Cover each layer with a teaspoon of the spice and Asyla mixture before you add another layer. Continue layering.
When the vegetables are used up take a brick covered in aluminum foil to weigh down the sliced raw vegetables in the terrine for about 30 minutes. Depending on the size of the pan you may want to use two bricks.
Your oven should already be 375°F with the chops roasting. If making the vegetables ahead, preheat oven to 375°F.
Put the pan or mold in the oven with the bricks on top.
Roast in oven for about 30 minutes.
Remove from the oven.
Let sit for about 20 minutes.
Remove the brick or weights.
Take a large plate and put over the pan or mold.
Turn the entire assembly upside-down (use kitchen towels on your hands and arms to avoid burns) and then carefully lift the mold or pan up. The terrine should come straight out.
Cut the terrine into 2-inch by 2-inch squares and serve with
the pork chops.
Good Food in Hard Times: Pappa al Pomodoro
Summer tomatoes and leftover bread star in this rustic, resourceful Italian soup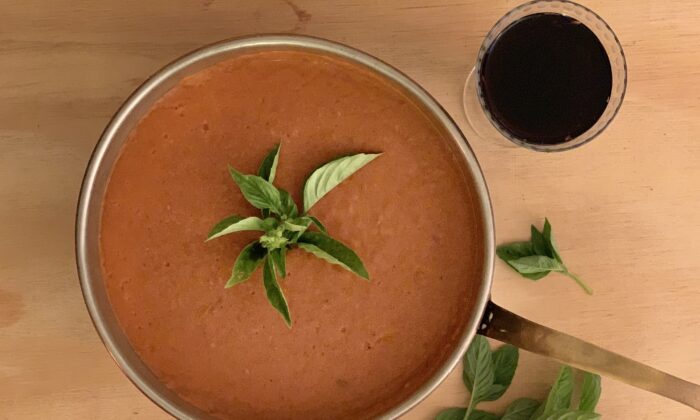 Pappa al pomodoro, a rustic tomato bread soup, is one of the many dishes from the days when everything had to be used. There is an old Italian saying: "cucina buona in tempi brutti"—good food in hard times. Since tomatoes first came to Europe, many variants of this dish have evolved as part of the repertoires of the cucina povera, literally the "poor kitchen."
Dishes that come from this tradition can be found all over the world. People had to make do with whatever could be found, and use up items such as old bread. In hard times—such as wartime or a deep recession in the United States—such meals become a life saver.
Summer will give us perfect tomatoes, and there is also always rustic bread leftover in the kitchen. Quality matters! Select good, fresh tomatoes from a farmers market—with a plentiful harvest, many farmers will sell bags of somewhat bruised tomatoes for an affordable price—fresh herbs such as basil, and rustic country bread with a crunchy crust. To prepare pappa al pomodoro takes time, but the results are well worth the effort.
The name of the dish includes the word "pappa," which is often associated with food for young children, but rest assured that it can be savored as a very adult meal.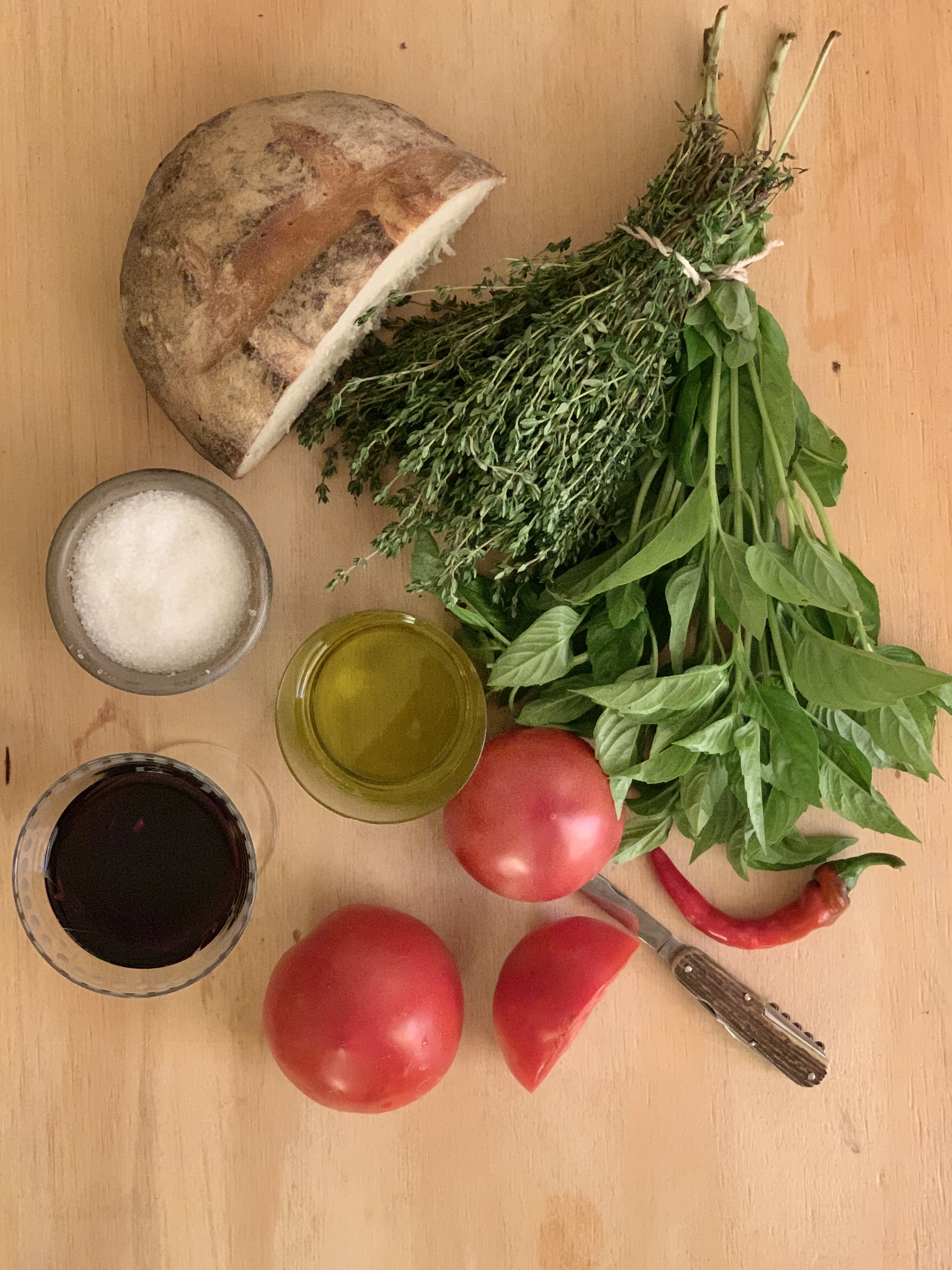 Pappa al Pomodoro
Savor summer with this classic Italian soup, made with just a handful of ingredients. This rustic dish can be enjoyed now when tomatoes are at their peak, and can also be frozen to keep as a taste of summer during the colder months.
The ingredients below are for four servings. If you want to freeze some for winter, do increase the quantities. There are no "correct" quantities. Feel free to use more or less of the ingredients as you wish.
Serves 4
10 ripe red tomatoes (for a stunning presentation, use also yellow tomatoes)
2 cloves garlic, minced
About 1 pound dried rustic bread, broken into small pieces
1 cup extra virgin olive oil
Sea salt
Coarse black pepper
1 small chili pepper, chopped, or dried red pepper flakes to taste (Calabrian peperoncini chili flakes are best)
Red wine (or white wine, if using yellow tomatoes)
About 18 leaves fresh basil, chopped (or use oregano or marjoram)
About 1/4 cup (or other small quantity) grated parmesan or Grana Padano
First, peel the tomatoes: Cut a cross into the bottom of each tomato and briefly dip them into boiling water for 30 seconds, then into icy or cold water. The skin will come off fast. Halve the tomatoes and scoop out the seeds, then very roughly chop the tomatoes.
In a heavy pot, add about one cup of water, the tomatoes, and the garlic, and bring to a boil. Then add the bread.
Reduce the heat to low and let simmer for about 20 minutes, stirring frequently.
Add olive oil, some sea salt and black pepper, red pepper if using, and at least a glass of red wine. Taste and adjust seasonings as desired.
Let the soup sit for 45 minutes. Then, serve in bowls, garnished with fresh basil and cheese.
Agostino von Hassell is based in New York. In addition to corporate consulting, he creates "foods of art"—his latest book is "Caesar's Great Success: Sustaining the Roman Army on Campaign." See also the book's Facebook page, Julius Caesar's Recipes, and his website, AgostinoVonHassell.com
Timballo: The Ultimate Italian Pasta Bake
This Sicilian pasta casserole is a rich and cheesy showstopper of a dish
October 1, 2020 Updated: October 1, 2020

Timballo is a popular, if labor-intensive dish from Italy.
The name of this drum-shaped baked casserole comes from the French word "timbale," which means "kettledrum." The French word in turn has its origin in Arabic, which in turn evokes the giant drums used by the Janissaries, elite soldiers of the Ottoman Empire. The metal drums were used for sound as well as cooking.
Throughout Italy, its other names include "bomba" and "timpano." Some readers may recall the popular 1996 movie "Big Night," directed by Campbell Scot and Stanley Tucci, in which Italian immigrants in New Jersey prepare a timpano. This movie made the dish very popular in the United States.
Timballo is traditionally prepared in a deep, round copper bowl, filled with a range of ingredients most often encased in a pasta crust and baked. There are so many recipes for timballo, and a cook's imagination can guide you. The filling can have endless variations of ingredients, while the outer crust can be made from pasta, rice, or even sliced vegetables.
This recipe is based on Sicilian cuisine, a familiar variation prepared by this writer.
You'll need a 10-inch springform pan, for easy unmolding, or a 5-quart round casserole dish. The crust is made from a thin layer of fresh pasta sheets, briefly boiled and used to line the pan. The filling is a mix of more pasta—cooked penne, in this case—coated in a rich tomato-meat sauce made with sweet Italian sausage, ground beef, mushrooms, olives, and basil. Before sealing the mixture, you'll add a layer of smoked mozzarella that will turn soft and creamy in the oven.
After being baked and unmolded, the finished dish is one that will surely impress. The texture might remind you of lasagna, and the taste is layered and rich, due to the number and variety of ingredients used—a delightful kettledrum of mixed goodies to break into and enjoy.
Timballo Siciliano
Serves 6
1 pound fresh sweet, thin Italian sausage
12 ounces dry penne
1 pound ground beef
8 ounces mushrooms, sliced
1/2 cup plus 2 tablespoons olive oil, divided, plus extra for greasing the pan
Two (10.75-ounce) cans tomato puree
1 cup sliced black Kalamata olives
1/3 cup chopped fresh basil, plus extra sprigs for garnish
1 pound fresh pasta sheets
2 (8-ounce) balls smoked mozzarella, shredded
Salt and pepper to taste
4 hard-boiled eggs, peeled and cut into quarters, for garnish
Preheat the oven to 375 degrees F. Roast the Italian sausage on a baking sheet for 45 minutes, or until browned on the outside. Remove and cut into 1/2-inch segments.
Meanwhile, bring a large pot of water to a boil, salt generously, and cook the penne according to package directions, until al dente. Drain and set aside.
In another large pot over medium-high heat, heat 1 tablespoon of olive oil and brown the ground beef, about 10 to 15 minutes. Remove and set aside.
To the same pot, add another tablespoon of olive oil, followed by the sliced mushrooms, and pan-fry until soft, about 10 minutes. Remove and set aside.
Pour the remaining 1/2 cup olive oil into the pot, and swirl it around to coat; this will help prevent the sauce from sticking. Add the tomato puree, penne, sausage, ground beef, mushrooms, olives, basil, and salt and pepper to taste. Bring to a simmer, then reduce the heat and simmer, uncovered, for 10 minutes. Stir occasionally with a wooden spoon, to ensure that the sauce doesn't stick to the bottom; if needed, add a bit more water.
Using the same pot you used to cook the penne, bring a fresh pot of water to a boil and cook the fresh pasta sheets, about 8 minutes. Drain and rinse in cold water.
Preheat the oven to 350 degrees F.
Grease a 10-inch springform pan or 5-quart round casserole dish with olive oil. Line the bottom and sides of the pan with the cooked pasta sheets, making sure there are no gaps, so that the edges of the sheets stick out and hang over the sides. You should have about 5 to 7 inches of overhang, so you can later fold it over the filling to seal.
Spoon the pasta and tomato sauce mixture into the pan and distribute shredded mozzarella over the top. Cover the filling with the overhanging pasta sheets, and any remaining pasta sheets you have. The dish should be completely and uniformly covered from all sides. If you still have extra sheets left, tuck them into the pan.
Bake at 350 degrees F for 30 minutes. (Most of the ingredients are already fully cooked, so 30 minutes will be enough.)
Carefully remove the pan from the oven and let cool slightly for 10 to 15 minutes. Using kitchen towels (it will still be hot), unmold the timballo onto a large plate.
Decorate with sprigs of fresh basil and arrange the quartered hard-boiled eggs around the outside. Slice into wedges with a large knife and serve with a red wine.
Agostino von Hassell is based in New York. In addition to corporate consulting, he also writes about food and military and political histories. He recently co-authored "Caesar's Great Success: Sustaining the Roman Army on Campaign." See also the book's Facebook page, Julius Caesar's Recipes, and his website, AgostinoVonHassell.com
Endless Summer: How to Preserve the Season's Bounty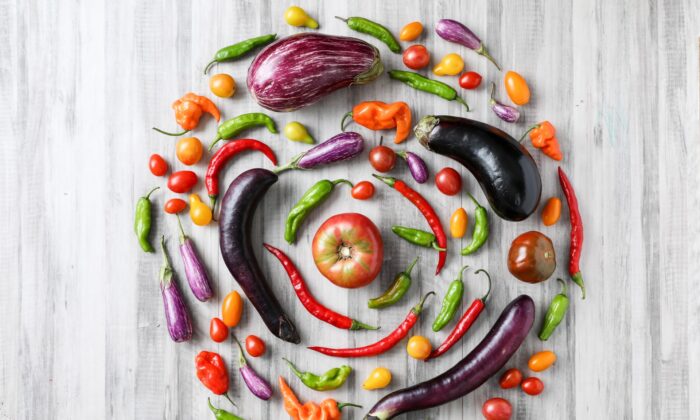 Farmers markets are displaying enticing summer fruits and vegetables piled up high. This year's harvest has been superb—so what can you do to preserve these vegetables fresh now, before summer fades into autumn, and then turns into the chill of winter?
So often has this writer longed for the sublime taste of fresh vegetables when temperatures drop. For thousands of years, people have evolved techniques to preserve summer's bounty for winter. Most of these techniques predate refrigerators and freezers. These traditional techniques—as well as learning how to make the best use of freezers, since we now have them—are great tools to have access to nutritious and tasty foods during the colder months.
Flavor matters: Yes, frozen and canned vegetables and fruits are abundant in grocery stores, but the flavor of truly fresh produce is hard to replicate.
A trip to a farmers market followed by a few hours of kitchen work will generate a bounty. Do it. You will be surprised by how easy it is. Few tools are needed; your imagination is probably the most important one. But do make room in your freezer.
Getting Ready
When you shop at farmers markets, use your eyes. Look for plump, ripe eggplants; fresh herbs; tomatoes that are seemingly bursting with flavor; peaches that hold the promise of sweetness; red cherries that glisten; and if you are lucky, late summer raspberries.
Colors matter: Pick yellow or almost black tomatoes, in addition to the typical red ones. Different colored eggplants will make your pantry shine: white, purple, striped, and black. With carrots, get yellow or purple. Think of the splendor of fresh corn, at times blue or red.
Colors matter to the eye and palate—we also savor the drama of such vibrancy. Just think of the visual and edible joy when the outside world turns gray.
No rules; recipes are but a crutch. Ignore the dictatorship of specific weights and prescribed steps. Recipes from the grandmaster of modern cooking, Auguste Escoffier, virtually never list specific weights or cooking times. This writer drives people cooking with him nuts when he says, "It is ready when it looks or feels right."
Drying or Freezing Herbs
When the Ottomans seized Constantinople (today's Istanbul) in 1453, they stopped sales of key spices shipped to Europe almost overnight—no more pepper to cover up the taste of more or less spoiled beef. That also led to primarily Portuguese discoveries to find spices, and the effort by Columbus to find India.
Within three years of 1453, in Italy appeared what many now call the first modern cookbook, "The Art of Cooking." The writer Maestro Martino of Como essentially told people to go back to the garden and harvest herbs, and use them as spices.
Fresh herbs can easily be dried and used by themselves or in a blend to add flavor. Buy bunches of basil, Thai basil, rosemary, sage, summer savory, winter savory, lavender, pineapple sage, thyme, lemon basil, or purple basil. Wash the herbs and tie them up into bundles with kitchen twine, making the twine long enough to form a loop for hanging. In my kitchen, I hang the bundles from small hooks that hold pots and pants. That way, they get air and dry faster, within 10 days.
Put the dried bundles into a large bowl and use your fingers to strip off the leaves, then crumble the leaves, blend as desired, and put into jars. It's somewhat messy, but smells great.
Save the twigs, and add them to your grill when grilling meats or fish. To fully release their flavor, soak them in water for 10 minutes or so. I recommend putting the wet twigs right on the coals.
Dried herbs—like all spices, such as pepper or cloves—have a limited shelf life. This also applies to the spices you buy in a supermarket. The dried herbs will retain their flavor for nine months, just in time for the next harvest. Use them on boiled potatoes, scrambled eggs, pasta, or with meats. I use them with soup, toasted bread drizzled with olive oil, or a puree of carrots.
You can also freeze your herbs. For an amazing, yet simple, pasta sauce, use a blender to puree fresh basil with a touch of water, and freeze the puree in an ice cube tray. Once frozen, take a basil cube out of the freezer and stir it into your hot pasta. It will melt very fast and create a wonderful flavor. One cube will suffice to make a simple pasta dish sing.
Drying Fruits and Vegetables
Most vegetables and many fruits can be dried and stored in jars or frozen. If you don't have access to a covered outdoor patio for sun-drying, you can use a food dehydrator or baking sheets and a low-temperature oven.
Wash and prepare your produce: halve, pit, and slice peaches and plums; halve cherry tomatoes; seed and slice large tomatoes; and trim and slice eggplant and summer squash. As for the thickness of the slices, 1/4 inch is perfect. Keep the sizes consistent, for even drying. Some vegetables, including eggplant, squash, and green beans, should be blanched before drying: Dip them in boiling water for a few minutes, then plunge them in cold water to stop the cooking. Drain and pat them dry.
Preheat your oven to 170 degrees F, or the lowest temperature setting. On your baking sheets, lined with parchment paper, arrange your prepared produce. Separate the items so they don't touch. Then, transfer the baking sheets to the oven to let the produce dry, flipping the pieces occasionally throughout the process. Keeping the oven door cracked slightly open can help with air circulation.
Dry vegetables until they are crisp and brittle. Dry fruits until they are shriveled and not sticky or tacky, though they may still be pliable. Tomatoes should be shriveled and dry but still pliable. This will take several hours, depending on the produce.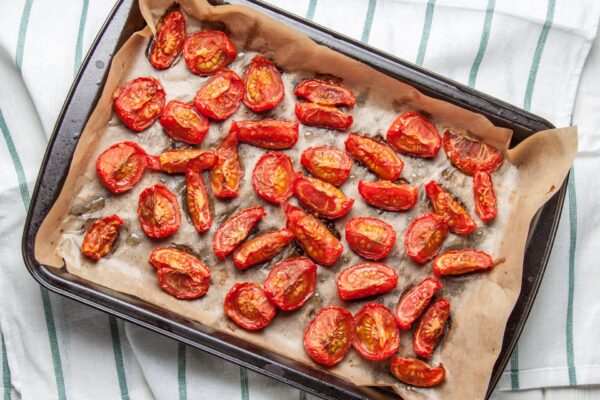 When dry and cooled, put them into clean jars, which can then be kept sealed in a cool, dry, dark place, or freeze them. You can also pack dried tomatoes with olive oil in a clean jar.
How to use dried vegetables and fruits? You can snack on dried fruits as-is. Rehydrate dried vegetables by soaking them in boiling water, then use them as almost fresh vegetables. If using dried vegetables in soups and stews, you can add them directly to the pot to cook.
Freezing Fruits and Vegetables
Buy freezer-quality Ziploc bags for freezing fruits and vegetables such as whole berries, pitted cherries, sliced peaches, uncooked shucked corn, and sliced eggplants. You can even freeze tomato sauce.
Quickly wash the produce you want to freeze and pat it dry. Pitting cherries, plums, apricots, or peaches helps—the pit can add a bitter flavor. For eggplants, you will need to salt, drain, and dry the slices first, to get rid of excess moisture. Some cooks like to blanch the vegetables first—dip them into boiling water for a few to 10 minutes, depending on the vegetable, then stop the cooking in cold water, drain, and pat dry.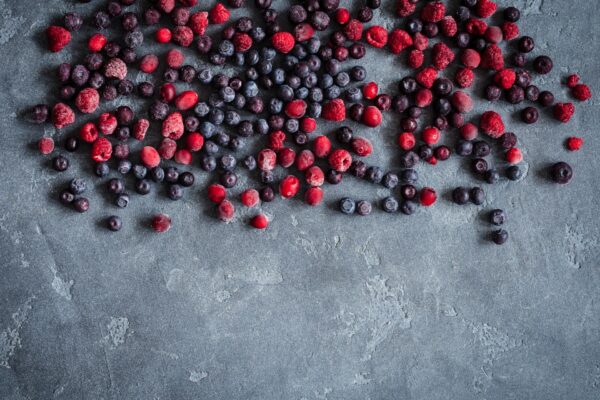 Put the prepared produce into bags and squeeze out the extra air from the bag. Berries such as raspberries, strawberries, and blueberries require a further step. First, place the berries on a large aluminum baking sheet, separated from each other, and freeze them. Then, transfer the frozen berries into freezer bags, so they remain separate and loose in the bags. If you freeze them directly in the bag, it becomes an unsightly mess. The same process can be used with other products such as okra, delicate green beans, or cherry tomatoes.
Frozen fruits and vegetables will last a good 10 months.
Canning
All kinds of preserves—jams, pickles, tomato sauces, whole fruits in syrup—can be canned for long-term, shelf-stable storage, but the process is hot and labor-intensive. Canning requires fresh clean jars with new lids, which you will also have to sterilize and process in boiling water, and lift out of the boiling water with metal tongs. Improperly sterilized jars can create unwanted bacteria and cause canned fruits or vegetables to spoil.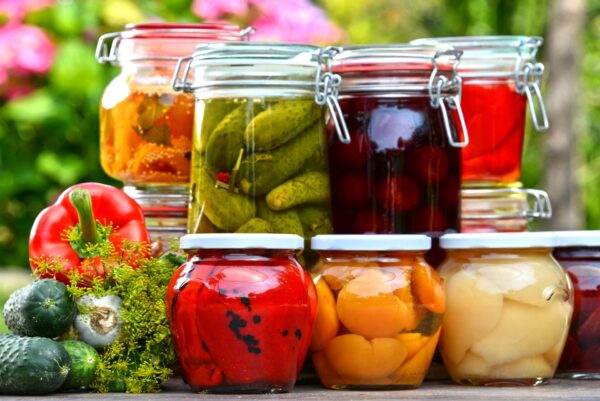 The National Center for Home Food Preservation site has detailed information and safety tips, including a comprehensive "Complete Guide to Home Canning." This is a superb resource for canning and other forms of food preservation.
Checklist
Here is a list of supplies you want to have on hand:
Kitchen twine and scissors
Clean jars with new, clean lids
Large rimmed baking sheets
Freezer bags
Plastic containers
Labels, so you can write the date and content on your jars and freezer bags
A FoodSaver vacuum sealer: This can be used with fresh, dried, or frozen fruits and vegetables, or sauces. Look for bargains online; costs range from $35 to $60. It isn't needed, however; a tightly closed, good quality freezer bag works just fine.
Agostino von Hassell is based in New York. In addition to corporate consulting, he also writes about food and military and political history. He recently co-authored "Caesar's Great Success: Sustaining the Roman Army on Campaign." See also the book's Facebook page, Julius Caesar's Recipes, and his website, AgostinoVonHassell.com
Pan-Seared Turbot Is a Simple, Elegant Fish Dish Fit for Royalty
From the legendary French chef Escoffier, by way of a Portuguese king, comes a recipe for 'the prince of the seas'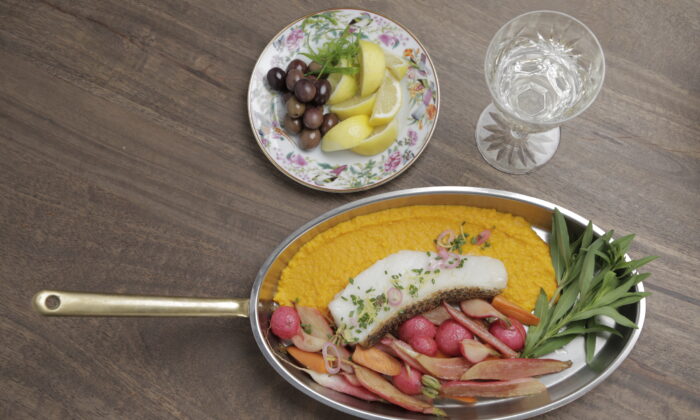 In Europe, the time around the turn of the 20th century was a period of splendor and innovation. The global catastrophe of the First World War was not even anticipated.
Culinary innovation was enormous and impacted the upper class in all of Europe's capitals. It was the time when French chef Auguste Escoffier created spectacular recipes and truly put a new accent on cooking. His culinary canvas was the celebrated Ritz Hotel in London, which he opened in 1906 along with Swiss hotelier César Ritz. The Ritz hotel was the first where the kitchen was organized in line with the now almost standard brigade de cuisine, or brigade system, that brought order to kitchens and sped up service.
Escoffier created well over 2,000 recipes that are used to this day. These recipes are impressive in their simplicity, contrary to what so many consider to be complicated French cooking.
At that time, Escoffier's recipes were copied all over Europe, often modified to local tastes. One such recipe is for turbot, a prized European flatfish, from the royal court of Portugal during the rule of King Carlos I and his wife, Queen Amélie.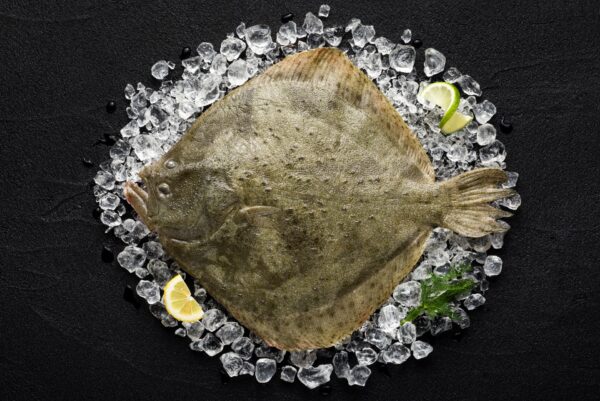 I first discovered this recipe while doing research on the Portuguese royal family. I became curious when visiting the royal summer palace in Vila Viçosa, in the Alentejo region of Portugal. The palace kitchen is equipped with about a thousand copper pots and pans, weighing nearly 2 1/2 tons.
King Carlos, while an effective ruler, loved superb food—his enormous belly is indicative. He was also given to preparing elegant watercolor menus of his dinners.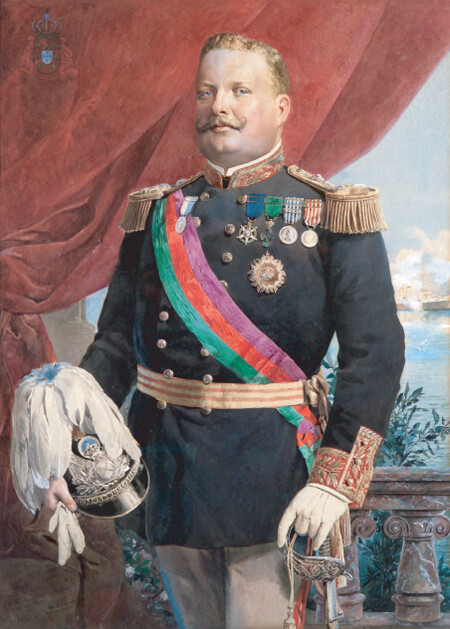 Turbot has been highly sought after for centuries, prized for its firm, bright white flesh and meaty taste. Marie-Antoine Carême, the father of French haute cuisine, called it "the prince of the seas." While expensive, turbot can be purchased in most fish markets, though it may have to be ordered. If none is available, flounder can be a substitute.
Another special ingredient is grains of paradise, an aromatic spice found by Portuguese explorers in West Africa, an area often referred to as the Pepper Coast. It has been imported into Portugal since 1469. The spice is not pepper, but is somewhat similar in taste, combining a citrusy sweetness with the pungency of black peppercorns. In the United States, grains of paradise are most easily acquired online. They can also be substituted with regular black peppercorns.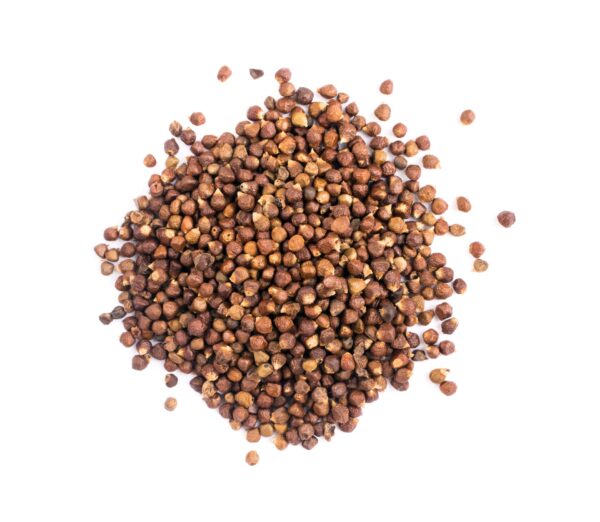 Here, turbot filets are seasoned with crushed grains of paradise, pan-seared until the skin is golden and crisp, and plated with a buttery carrot purée. The dish is simple to prepare, yet festive enough for a royal feast.
Turbot With a Portuguese Accent
Serves 4
For the Purée of Carrots
1 pound carrots
1/2 stick unsalted butter
For the Turbot
2 1/2 pounds turbot filets, skin-on
1 tablespoon olive oil
Salt to taste
1 teaspoon grains of paradise, ground-up or crushed in a mortar
1 tablespoon butter
3 chive stems, chopped, for garnish
For the Purée of Carrots
Use a vegetable peeler to clean the outside of the carrots, then chop them into small pieces.
Bring a pot of water to boil and boil the carrots until very soft. In a small saucepan, melt the butter.
Combine the cooked carrots and melted butter in a blender and blend until smooth. Transfer the purée to a pot and set aside, to reheat when the fish is done.
For the Turbot
Wash the fish filets, divide into four equal pieces, and pat dry.
In a non-stick frying pan over medium heat, add 1 tablespoon of olive oil. Once the oil is hot, season the turbot filets on both sides with salt and ground grains of paradise and add to the pan, skin-side down. Cook until the skin is golden and crisp, approximately 3 minutes.
Flip the filets and add 1 tablespoon of butter to the pan, allowing it to foam. Spoon the foaming butter over the fish and remove the pan from the heat. Leave the filets in the pan to finish cooking through from the residual heat, about 4 minutes.
Meanwhile, reheat the carrot purée and divide among 4 serving plates. Plate the fish and decorate with chopped chives. Serve with vegetables and other garnishes of your choice.
Agostino von Hassell is based in New York. In addition to corporate consulting, he also writes about food and military and political histories. He recently co-authored "Caesar's Great Success: Sustaining the Roman Army on Campaign." See also the book's Facebook page, Julius Caesar's Recipes, and his website, AgostinoVonHassell.com
---